11 Call Center Metrics & KPIs to Enhance Efficiency
This article is part of a larger series on VoIP.
Call center metrics and key performance indicators (KPIs) measure agent performance and customer satisfaction rates. Tracking this data helps create more efficient customer experiences by identifying agent training needs and ensures you are maintaining high-quality standards of service⁠. Here are the 11 key call center metrics and KPIs your business should measure:
Average call abandonment rate
Service level scores
Average speed to answer (ASA)
Average handle time (AHT)
Average after-call work (ACW)
First call resolution (FCR)
Customer satisfaction score (CSAT)
Call transfer rate
Call volume trend
Agent turnover rate
Average time in queue
Pro tip: While you can calculate and track call center KPIs manually, the best call center phone systems provide built-in analytics and dashboards to help you monitor call center performance metrics in real time, spot trends, and get insights. They save you time and give you data-backed recommendations to improve your call center's performance and quality of customer care.
1. Average Call Abandonment Rate
Your call abandonment rate is the percentage of people who hang up the phone before speaking to a representative. Call abandonment rates hover between 5% and 8%, but this figure varies among industries and may change seasonally. Measure your rate by dividing the total number of abandoned calls by the total of incoming calls.
Call center solutions like RingCentral Contact Center offer custom abandonment metrics, including:
Held party abandons: People who hung up after your agent put them on hold.
Prequeue abandons: Callers who exited before going into a queue.
Short and long abandons: Customers in an agent queue who hung up at preset intervals.
Customers drop calls for many reasons, from long wait times to complicated interactive voice response (IVR) menus. A high call abandonment rate points to a problem with other call center metrics, such as your average speed to answer (ASA) and average time in queue rates.
HubSpot, a leading customer relationship management (CRM) software provider, advises that "90% of consumers rate an immediate response as important or very important when they have a customer service question." Consequently, your average call abandonment rate is critical for measuring call center performance.
2. Service Level Scores
A service level score is the percentage of your answered calls within a specific time frame. It provides a high-level look at your performance and is one of the most important call center metrics.
Calculate your service level by dividing the total number of calls answered by the number of inbound calls. According to Call Centre Helper, the industry standard is to answer 80% of calls within 20 seconds.
Some industries provide service level agreements (SLAs) to customers, guaranteeing they'll respond to customers within a certain time frame. Others incorporate a promise into their brand mission and develop service-level goals to ensure they're meeting their customers' needs. Service-level monitoring (SLM) encompasses multiple channels, including phone and help desk messaging.
Hiver's Customer Service Benchmark Report finds that "46% of teams have a Service Level Agreement policy to resolve customer queries in less than 6 hours." Tools like the Freshdesk Omnichannel Suite offer a service level metrics report that breaks down which calls met expectations versus those that exceeded the standard.
3. Average Speed to Answer (ASA)
The average speed-to-answer call center KPI refers to the amount of time it takes for your agents to pick up the line. The clock starts ticking once callers leave the IVR system and continues until a representative answers the call. It's measured in seconds, and you can calculate it by dividing your total wait time by the total number of answered calls.
According to RingCentral, "the average speed of answer in the industry is around 28 seconds." However, HDI recommends keeping your ASA "between 25% and 40%" of your average handle time (AHT).
Since the ASA only tracks answered phone calls, reviewing other call center KPIs is essential. For instance, RingCentral Contact Center analytics drill down into queue and individual call center efficiency metrics, including ASA and average wait time, accounting for missed or abandoned calls.
High ASAs can reflect staffing issues, lead to higher call abandonment rates, and impact customer experiences. Reducing rates below the standard can increase your cost per support ticket or call.
4. Average Handle Time (AHT)
The average handle time measures the time it takes from the start of a call until your agent closes out the ticket. It includes the time your customer spends on hold and speaking with an agent, plus how long your reps spend on after-call work (ACW).
Call center phone systems like RingCentral Contact Center software and the Freshdesk Omnichannel Suite automatically calculate AHT. You can also pull data for ACW, call times, and hold times and divide it by the total number of incoming calls.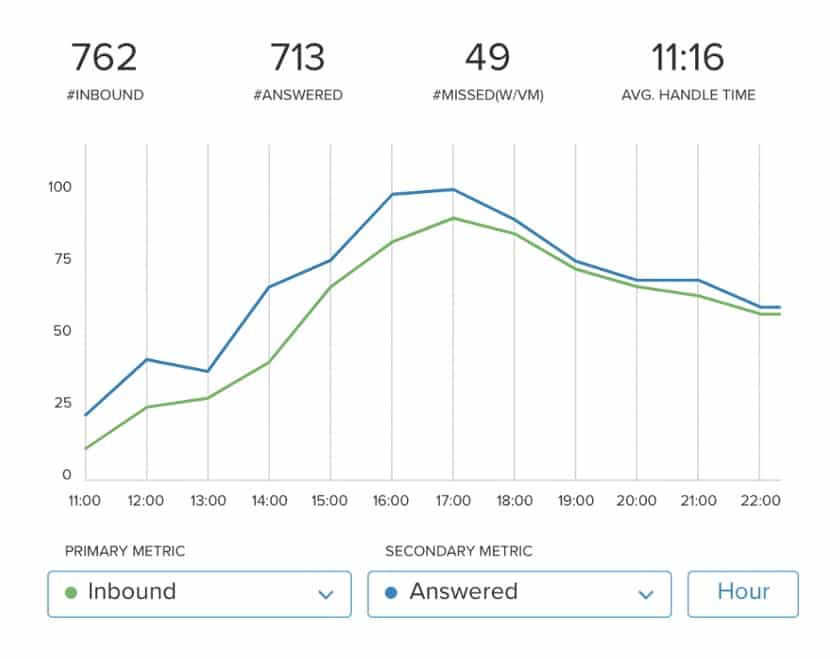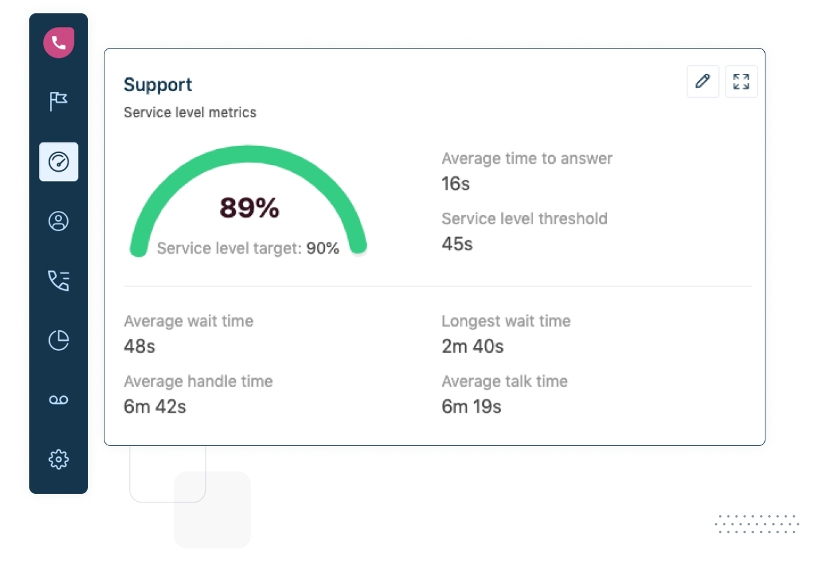 Call Centre Helper says the industry standard is "six minutes and three seconds." However, sectors with complex customer or technical support calls may require more time than ecommerce call centers answering order status questions.
Benchmarking your AHT against industry standards and monitoring your customer satisfaction score (CSAT) is crucial. If your AHT and CSAT are high, a long call handle time may not harm customer experiences. In contrast, a low CSAT and high AHT suggest a problem with your process or agent performance.
5. Average After-call Work (ACW)
Average after-call work is a call center KPI that accounts for your agents' time after ending a call. Typically, representatives add post-call notes and update the customer relationship management (CRM) database. The formula for tracking ACW is the total minutes your agent spent on after-call work divided by how many calls they handled.
ACW will vary, but Freshdesk software sets the default at two minutes and automatically changes your agent's status during this time frame. Call center efficiency metrics measure your agents' performance and provide insights for evaluation and training purposes.
Voice-over-internet-protocol (VoIP) systems like Dialpad provide automatic post-call notes, reducing after-call work. Likewise, call center software integrations with CRMs automatically sync your call data to your CRM, decreasing data entry tasks.
6. First Call Resolution (FCR)
First call resolution, or first contact resolution, is a call center metric that rates your ability to resolve customer problems on their first interaction. Figure out your FCR by dividing the total number of customer questions resolved on the first call by the total number of callers with unique issues.
The SQM Group reports that the "call center industry benchmark average for the first call resolution rate is 70%," meaning 30% of callers inquire about the same problem again. These rates vary by call types and industries.
FCR can be more difficult to track as it requires clear definitions of what constitutes a resolved inquiry and a consistent method of reporting. VoIP services like Nextiva and 8×8 provide post-call survey tools where you can ask callers if your agent solved their problem. CRM integrations also record all interactions, allowing supervisors to calculate FCR accurately.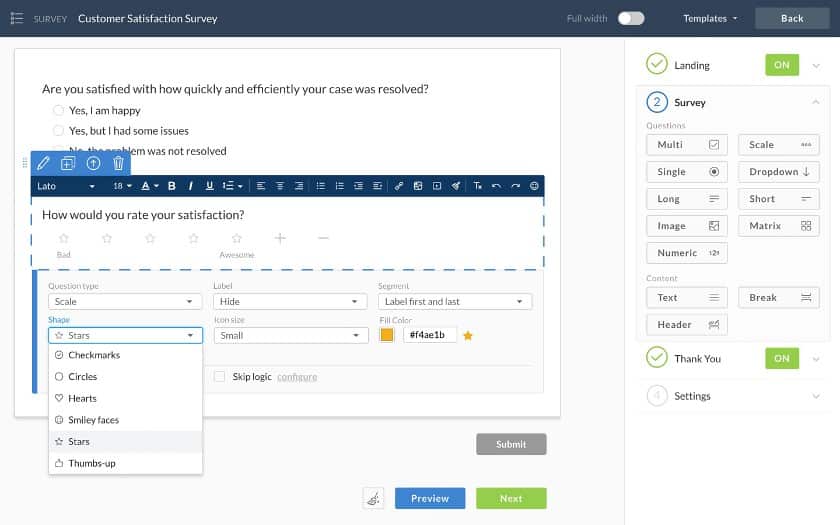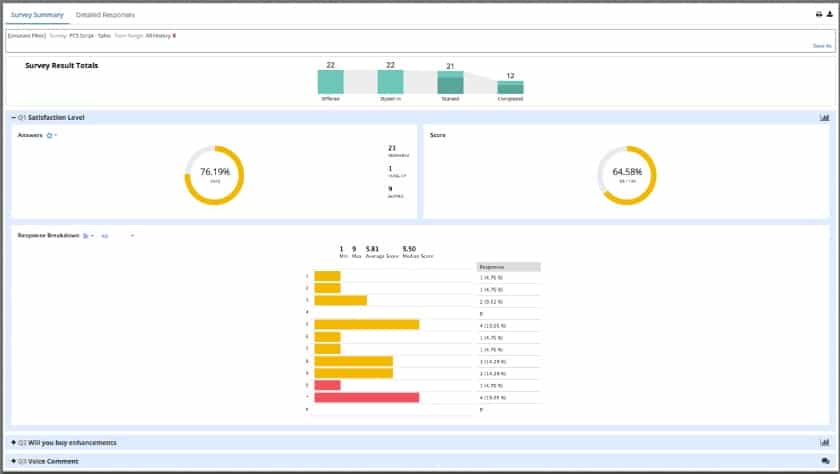 The benefits of tracking and improving your FCR are vast. SQM Group finds that a 1% FCR improvement lowers operating costs by 1% and increases customer satisfaction by 1%. Since these metrics affect profitability and customer experience, measuring call center performance—specifically FCR and CSAT scores—improves your business outcomes.
7. Customer Satisfaction Score (CSAT)
Like FCR, the customer satisfaction score (CSAT) relies on post-call customer surveys. Ask callers a question, like "On a scale of 1 to 10, how would you rate your overall satisfaction with your call?" Add up your satisfaction scores and divide them by the number of completed surveys.
The customer satisfaction score is the easiest to calculate, yet has the most significant impact on your success. Indeed, 41% of respondents to Hiver's Customer Service Benchmark Report said the "CSAT is their most important KPI."
RingCentral Contact Center automatically sends surveys and creates reports. You can also use free tools like Google Forms or Typeform. The American Customer Satisfaction Index (ACSI) industry benchmarks in 2021 ranged from 65% for internet service providers to 80% for full-service restaurants. A score of 75% means three out of four callers rated the interaction positively versus neutral or negative.
Other customer-related call center metrics include the net promoter score (NPS) that measures brand loyalty and the customer effort score (CES) that calculates the effort your customer makes to resolve a problem.
8. Call Transfer Rate
The call transfer rate is a call center metric that looks at the percentage of calls transferred to another department or employee, including calls passed to supervisors. You can measure the transfer rate by dividing the number of calls transferred by the total number of handled calls. According to LiveAgent, the "average number of call center transfer rates is 9.9%, and a typical caller is transferred 2.6 times before their issue is resolved."
Higher rates can indicate a problem with your IVR call flow or agent skill sets. Contact center features like call monitoring and call whisper can reduce your call transfer rate by allowing supervisors to assist agents before the problem escalates. Many cloud-hosted services, including RingCentral, Nextiva, and Freshdesk, support call monitoring on upper-tier plans.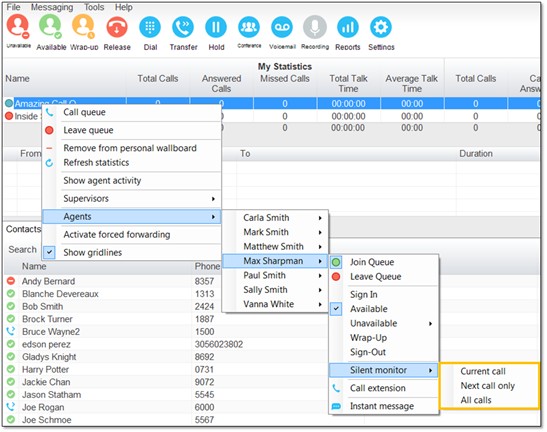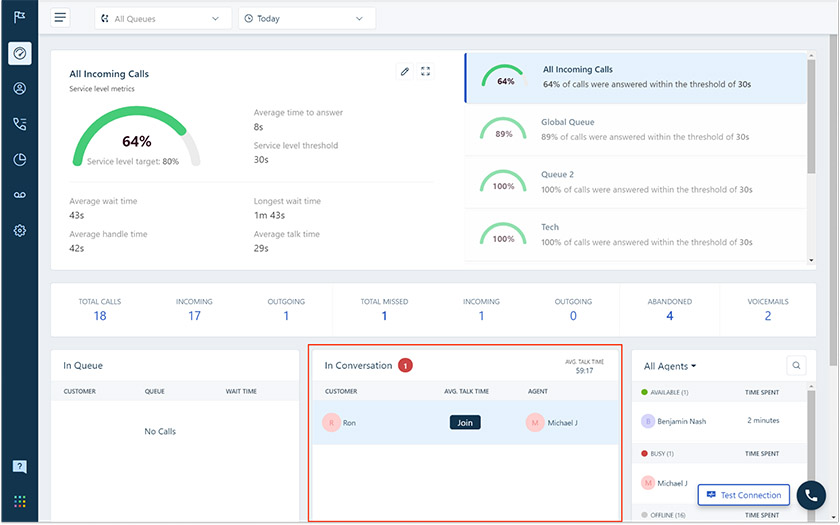 More importantly, call center software with skills-based routing tools and user-friendly IVR systems get customers to the right agent on the first try with less frustration. The best systems also sync caller data, so your customers aren't repeating their questions.
9. Call Volume Trend
The call volume trend measures your total inbound and outbound call volume in hourly, daily, weekly, or monthly intervals and compares it to your average speed to answer. Call center software typically categorizes call volume into the total number of calls handled by an auto-attendant versus those received by agents.
This call center KPI metric reveals trends related to peak call volumes, such as certain hours or days with high demand. Call volume trend reports help you optimize workforce schedules while ensuring positive customer experiences and higher CSAT scores. Most VoIP software includes basic call volume reports on entry-tier plans.
However, contact center platforms like RingCentral and Freshdesk provide advanced analytics. These tools pull together multiple data points for an overview of your call volume, speed of answer, and customer sentiment.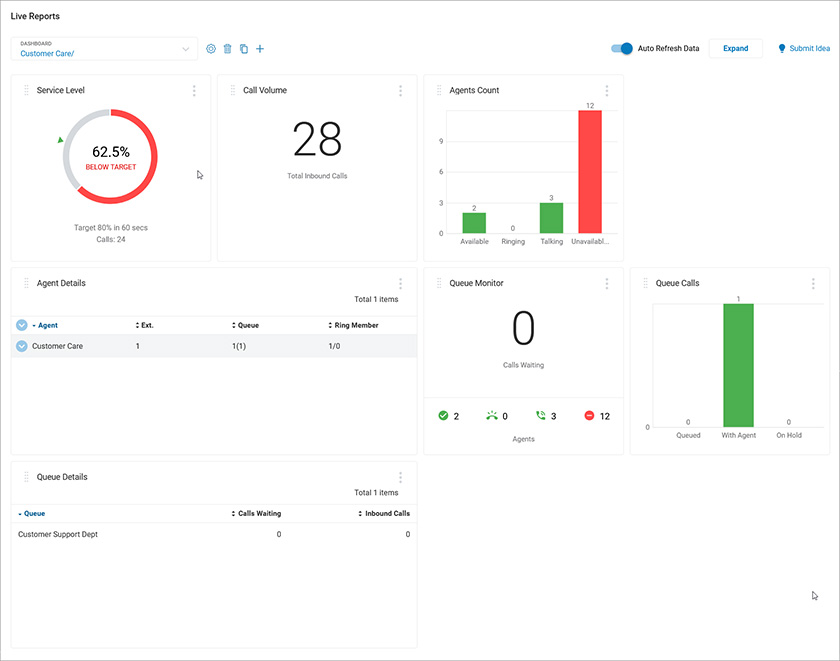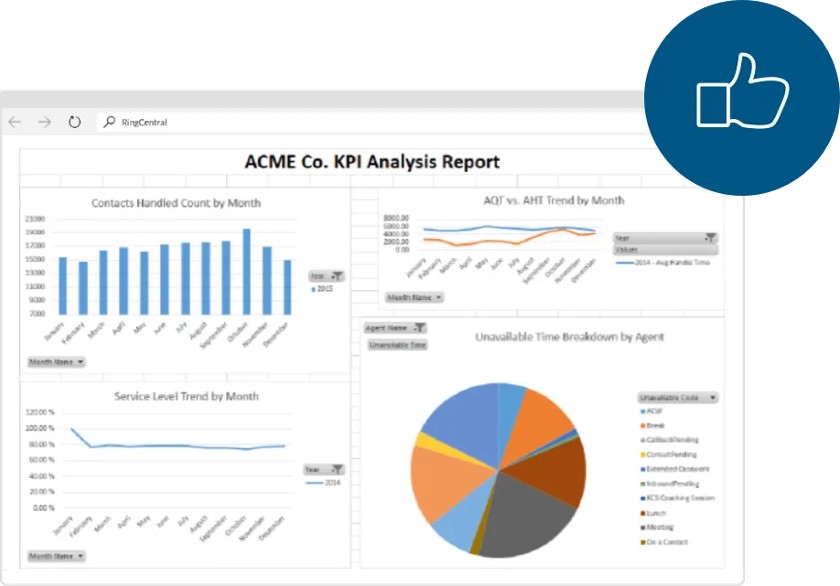 10. Agent Turnover Rate
Unlike other call center metrics, the agent turnover rate is inward-looking as it shows how many employees leave your employment during a specific time frame. Calculate your turnover rate by dividing the number of employees at the end of the period by your beginning headcount. Harvard Business Review says, "The average call center turnover rate is as high as 45%—at least twice the average turnover in other departments."
Another critical call center KPI related to staffing is agent absenteeism. It tracks how closely your team adheres to their schedule, providing further insights about engagement levels. Tools like RingCentral Contact Center and Freshdesk Omnichannel Suite provide workforce management tools, allowing call centers to monitor both metrics.
Agent attrition increases your costs and puts your customer experience at risk. As such, it's an important metric to track. While you can expect your turnover rate to ebb and flow seasonally, spikes may indicate an issue with work environments, work-life balance, or poor overall agent experiences.
11. Average Time in Queue
The average time in queue refers to how long your customer waits to speak to an agent after navigating the IVR system. Calculate this call center metric by dividing the total time on hold by the total number of calls. Longer wait times may increase your call abandonment rate and lower customer satisfaction scores.
Many call center platforms provide features to alleviate long hold times, such as queued callbacks. RingCentral Contact Center highlights queue wait times in real time and helps supervisors proactively manage call volumes.
Frequently Asked Questions (FAQs)
How are call center metrics calculated?
Most call center metrics use formulas to calculate a metric and express it as a percentage of a whole. You can use data from your business phone system, CRM, or help desk tools to compute the formula manually. Also, use your contact center software to generate reports based on your parameters.
How do you measure KPI for customer service?
Customer service KPIs measure everything from a caller's wait time to overall satisfaction. Some call center KPI metrics rely on call data, such as the caller's length of time in a hold queue or waiting for an answer. Others survey consumers after the call ends to calculate customer satisfaction (CSAT) or net promoter scores (NPS).
How can call centers improve their metrics?
Three main ways to improve call center metrics include using contact center software, acting on insights, and training agents. Contact center as a service (CCaaS) tools provide customer-facing tools that enhance the caller journey, such as easy-to-navigate IVRs and advanced call routing tools.
Artificial intelligence (AI), third-party app integrations, and automation features can all assist agents, resulting in better performance. For instance, CRM integrations give your team access to customer data before and during a call, helping them personalize conversations and improve caller experiences. It can automatically record and transcribe calls or generate after-call notes. Data analytics deliver call center KPI insights, allowing supervisors to identify call flow or agent-related problems.
Bottom Line
You can improve customer and agent experiences by understanding and tracking call center metrics. Explore the types of reports and analytics your contact center software offers, then regularly assess your call center KPIs. Use the insights to identify opportunities to delight customers, automate agent tasks, and reduce call center costs.